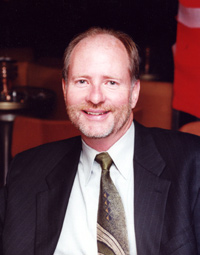 Steve Smith's Home Page
Steven W. Smith, Ph.D.
President
Tek84 Engineering Group
10907 Technology Place
San Diego, CA 92127

Steve Smith specializes in developing novel imaging systems for medicine, security, and industrial applications. Two of his major projects have been the SECURE 1000 and SentryScope. The SECURE 1000 is a security system for detecting weapons, explosives, and drugs hidden under the clothing of criminals and terrorists. More than 150 of these $100,000 systems are in use in the U.S. and overseas. SentryScope is an ultra-high resolution surveillence camera, producing images with more than 20 million pixels. The first SentryScope cameras were sold in September 2003.
In the medical field, Dr. Smith has developed x-ray systems for detecting blocked arteries in the heart (arteriosclerosis), and the loss of calcium in the bones (osteoporosis). His work in nondestructive testing has led to products for inspecting cans and bottles for fill level and leaks, and printed circuit boards for defective solder connections.
Dr. Smith is the author of The Scientist and Engineer's Guide to Digital Signal Processing, the number one selling DSP book on Amazon.com (out of 700+ titles). Unlike most of the DSP literature, this book provides clear explanations of practical DSP techniques without getting lost in detailed math and theory. Dr. Smith is also the author of The Inner Light Theory of Consciousness, a novel approach to explaining the nature of the human mind.
At present, Dr. Smith is president and technical director of Spectrum San Diego, Inc., a research and development group specializing in imaging and instrumentation systems. He lives in San Diego with his wife, Jenny.

To learn more about Steve Smith and his work: